Mastering interior style with bespoke etched frameless glass doors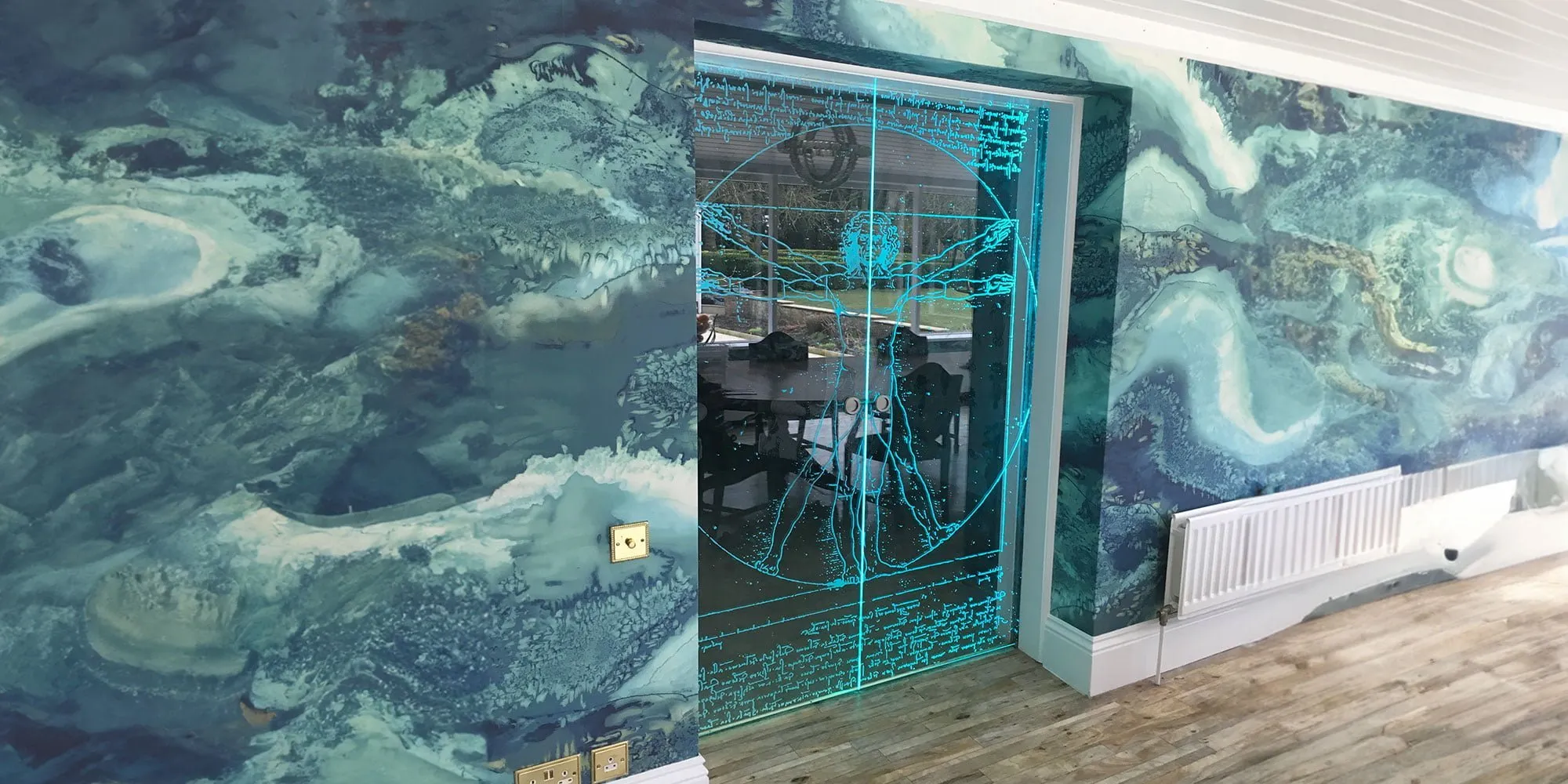 Are the frameless glass doors made in the UK?
What are the benefits of fitting etched, designed, frameless glass doors in my home?
In modern architecture and interior design, frameless glass doors have etched their significance, striking a balance between aesthetic allure and functional prowess. A standout in this industry, Clive Sparkes, who embarked on his glass designing journey in the early 1990s, has marvelled enthusiasts and homeowners with his bespoke etched glass doors, marrying traditional and contemporary designs seamlessly.
Celebrating 45 years of glass design, Clive's company Go Glass based in central Cambridge, recently opened a new production centre to run alongside the glass design showroom. In October, Clive launches his catalogue of unique designs, the largest collection of etched glass in the UK today, shown below are a few of the extensive design choice available.
Absolutely, here is our glass designer Bill, etching one of the standard traditional etched designs onto glass. This process is called "weeding" as he removes the mask that was applied to the glass before etching to leave the design clear.
Do I have a choice of finishes for my frameless etched glass doors?
While the luminescent appeal of polished chrome and the subtle elegance of brushed satin perpetually enchant, an array of finishes, including polished and satin brass, offer a warm aesthetic, and matte black extends a bold, modernistic appeal. This varied palette ensures that every design is not only a reflection of Sparkes' artistic narrative but also resonates with the stylistic and functional needs of diverse spaces and preferences.
Are frameless glass doors easy to install?
While the thought of installing frameless glass doors might seem complex, the process is smoothly executed by a competent DIYer, local contractor or carpenter. Designed by Clive, is not just the visual appeal but also pragmatic easy-to-follow installation considerations. Expertise in the fitting procedure assures homeowners that their investment is not only visually enchanting by also securely mounted and functionally sound.
Choosing a design from Clive Sparkes' notable collection is an immersive experience. Clients can explore designs through online platforms or physical showrooms to perceive the artistry up close. Furthermore, leveraging detailed renderings, customers can envisage how the doors will assimilate into their spaces, ensuring confidence in their selection before purchase.
Will installing bespoke products like glass doors increase the value of my home?
Incorporating frameless glass doors, especially those adorned with bespoke etched designs by Clive Sparkes, instils a unique character into your home. They elevate aesthetic appeal and introduce an illusion of expanded space, enhance natural light dispersion, and offer a sleek, modernized look that effortlessly complements both contemporary and traditional home décors.
In a competitive real estate market, anything you can do to create additional interest will inevitably increase the value of your home.
How much does it cost to buy a frameless glass door to fit my opening?
Investing in frameless glass doors is an endeavour where quality meets cost. Bespoke creations by artists like Clive Sparkes inherently carry a slgith premium, given the unique designs and meticulous craftsmanship involved. Prices can vary widely based on design complexity, glass type, and additional features such as the chosen finish, size, and additional customised details. However, the release of the new standard design collection brings frameless glass doors into the budget of many homeowners. When we say standard, there is nothing ordinary about the collection. Each design is scaled to fit your individual opening and a proof of the finished look is sent to each customer before manufacture. Want to add a little personalisation? often there is no additional charge for this service.
How are the etched frameless glass doors made?
Each door is individually made to fit your opening sizes; simply measure the width and height dimensions and let us do the rest. Each door is made from strong 10mm toughened glass. This glass exhibits a fundamental virtue of considerable strength, especially when contrasted with standard annealed glass. The process of tempering, involving extreme heating followed by rapid cooling, fortifies the glass, enabling it to withstand substantial impact and pressure. Furthermore, its enhanced strength facilitates larger, uninterrupted glazing areas, seamlessly merging indoor and outdoor environments while also standing robust against environmental factors such as wind and temperature fluctuations. This characteristic pertains to physical robustness and longevity, ensuring that architectural glazing remains immaculate and sturdy over extended periods, mitigating the necessity for frequent replacements or repairs.
Will my etched frameless glass doors pick up finger marks?
All of the etched glass doors are coated with Ritec Clearshield coating.
Ritec ClearShield is a well-regarded solution in the glass industry, offering many benefits that enhance the functionality and longevity of glass surfaces. Here's a summarised list of its benefits:
1. Durable Protection:
ClearShield provides a resilient protective layer that shields the glass from contaminants like limescale, dirt, and other environmental deposits, maintaining the aesthetic and functional qualities of the glass.
2. Enhanced Clarity and Visibility:
By repelling contaminants effectively, it ensures that glass remains clear and transparent, thereby enhancing visibility and aesthetic appeal.
3. Ease of Maintenance:
The protective coating simplifies cleaning processes by inhibiting the adherence of dirt and deposits. This translates into less frequent and less labor-intensive maintenance, saving time and resources.
4. Improved Hygiene:
ClearShield prevents bacterial growth on the glass surface, promoting a more hygienic environment, which is particularly beneficial for settings like bathrooms and kitchens.
5. Longevity and Sustainability:
The protective layer enhances the lifespan of the glass, preserving its quality and appearance over time, and consequently, contributing to sustainable building practices by reducing the need for replacement.
6. UV Stable:
ClearShield is UV stable, meaning it doesn't discolour or degrade upon prolonged exposure to sunlight, maintaining the effectiveness of its protective properties throughout its lifecycle.
7. Versatility:
Applicable to various types of glass installations, including windows, shower doors, and facades, offering broad utility across residential and commercial applications.
8. Enhanced Aesthetic Appeal:
Consistently clear and pristine glass enhances the overall aesthetic appeal of a space, contributing positively to both interior and exterior environments.
9. Reduced Water Spotting:
The application of ClearShield reduces the occurrence of unsightly water spots by limiting the ability of water to cling to the glass surface, thereby maintaining a cleaner appearance between washes.
How long does a bespoke set of frameless glass doors take to make?
We understand that you are keen to install your bespoke glass doors and if you choose a standard off the shelf design, the doors can be with you in as little as two weeks.
However, we like your purchase to be a journey, one in which you have full control over the design process and for this we ask you to allow time to talk to us either in person or virtually so we can fully understand your needs and wants and to respond to them. We promise that your glass doors will give the wow factor and will be a talking point for many years.
What does adding edge lighting do to etched frameless glass doors?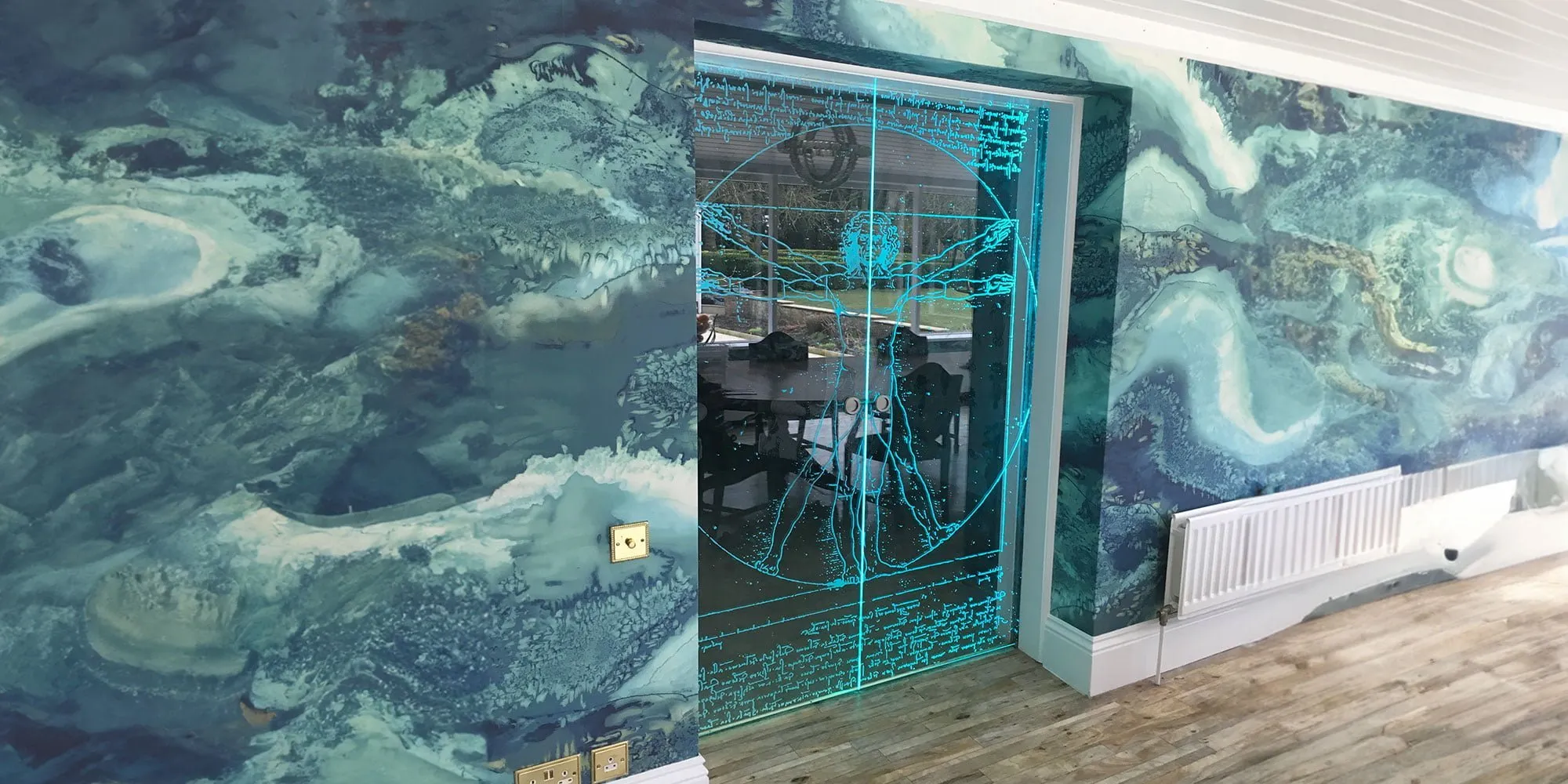 Clive Sparkes, one of the leading UK glass designers today has developed a unique and amazing process to edge-light his glass designs. This award winning glass design option really takes home interior design to a new level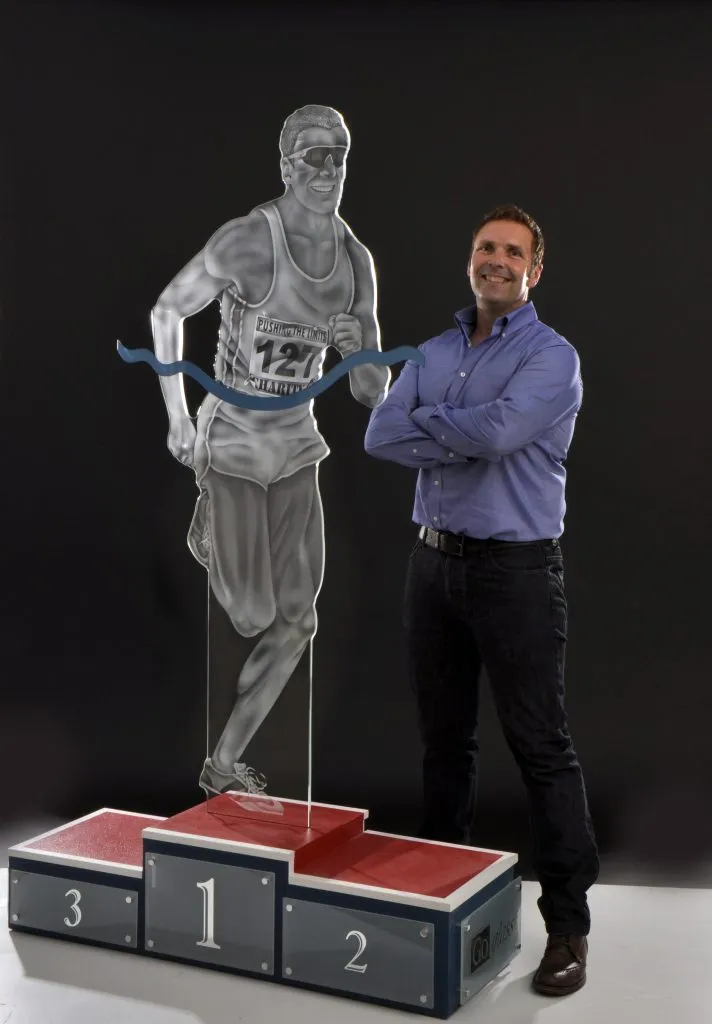 Who is Clive Sparkes and why is he renowned for glass design?
Clive has been designing glass for over 35 years at Go Glass. His passion for etched glass is clear and he has recently been shortlisted for glass company of the year and for unsung hero for his work in the glass industry
Can I visit Go Glass and see my frameless glass doors being made?
Absolutely
Our showroom is open Mon to Fri 8.00am to 4.30pm, we offer our customers a visit to the showroom followed by a trip 15mins to meet the production team at our new dedicated glass production centre.
Call us today on 01223 211041 or visit our website https://goglass.co.uk to use our interactive design your own glass doors.