How can glass cabinets transform your cafe's brand from ordinary to extraordinary?
Custom glass cabinets that set your cafe apart from the competition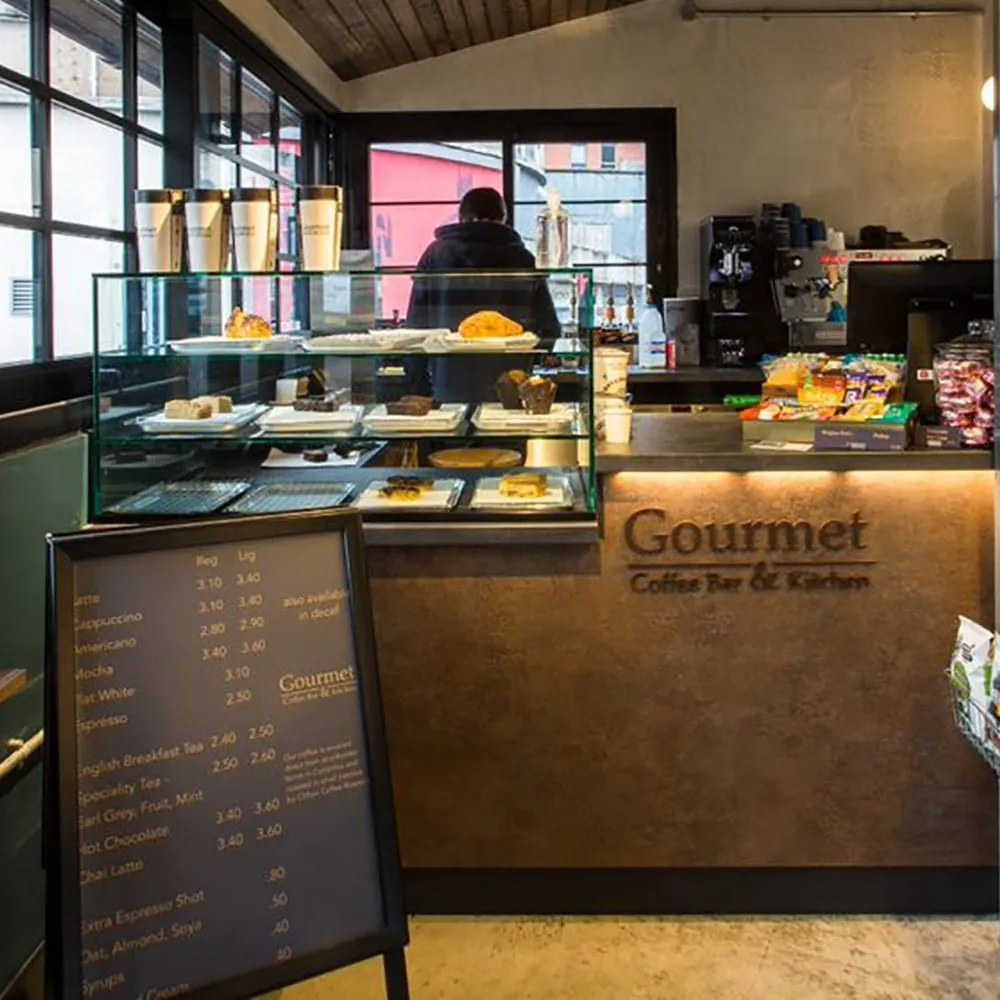 Renowned chef Ferran Adrià was known for his beautiful culinary creations and used glass cabinets to display. He turned the art of food presentation into a theatrical experience and the transparency of glass was perfect to display his edible art pieces.
You don't need to be working at this level to want to show your food off and achieve a competitive advantage, don't we all "eat with our eyes"
Since Covid, it is no longer thinkable that we would want to buy a croissant or pasty from a cafe that hasn't been in a glass display case. The great thing is that with demand comes innovation and the scope for designing and installing a custom or bespoke glass display cabinet in your restaurant or cafe.
Are glass display cabinets reserved for businesses with substantial budgets?
The answer categorically is NO. It may seem that way, as you visit the large department stores and see expensive items displayed this way. Yes, the luxury fashion brand Chanel became famous for using glass cabinets in their flagship stores worldwide., however, businesses large and small can now transform their products by presenting them in a stylish and elegant way using glass display cabinets of any size.
How can I brand a glass display cabinet to match my cafe's style?
With a choice of finish options, styles, layout designs, and sizes, you can create a glass display which will fit your own identity. Glass display cabinets are contemporary and modern and won't detract from any other interior design, in fact it will compliment it.
You can etch a company logo onto the glass, or why not add a funky slogan or message for your customers?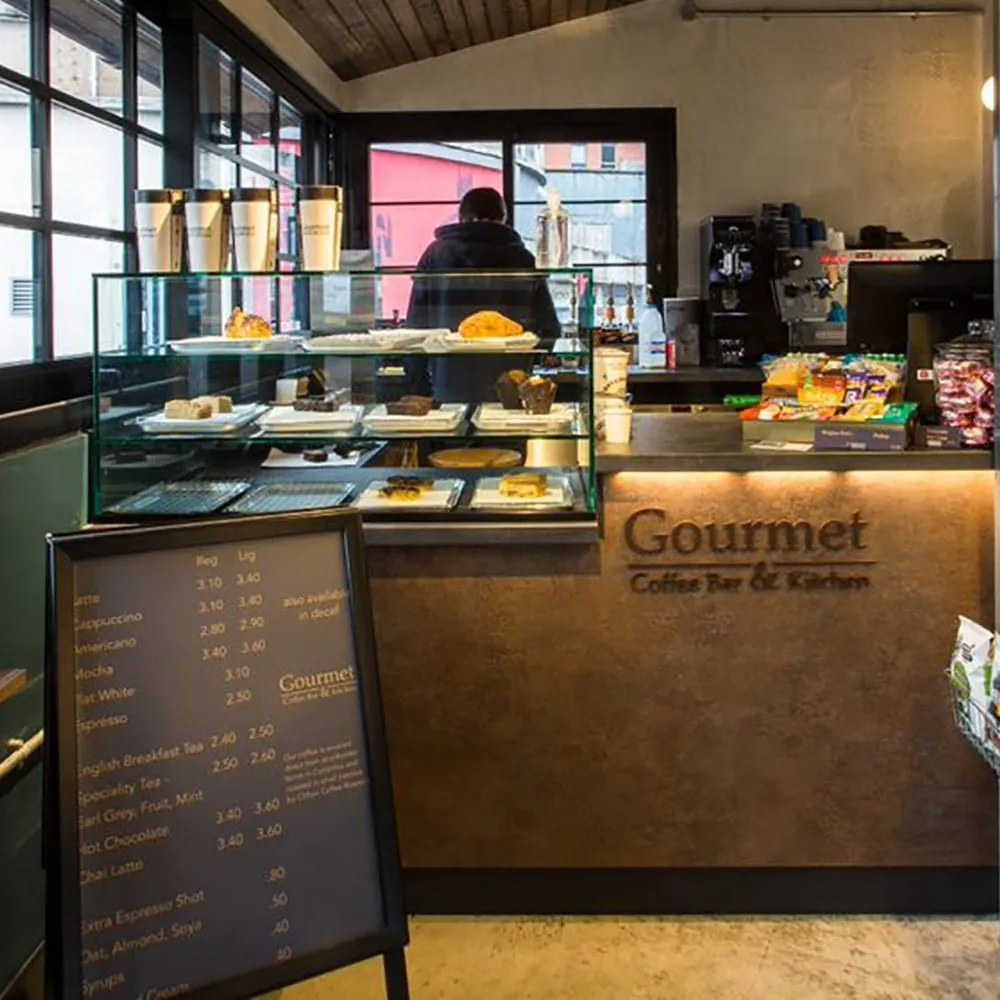 How does a glass cabinet enhance my product's visibility?
Glass display cabinets offer an unobstructed view of your products; effectively, they disappear but also offer protection for perishable goods and locking facilities for vulnerable products. They provide a main focal point in your shop, bar, cafe or restaurant, drawing the eye of the customer and making it the centre of attention. Why not customise each display to fit a single product onto the wall rather than floor stand them? Create interest and curiosity from customers as products are essentially floating from the wall.
Glass displays offer numerous visual merchandising opportunities, arranging and displaying products in an aesthetically pleasing manner. Strategic placement of products, gives them a luxurious high quality feel your customers will respond to.
How are glass display cabinets made and is the glass safe?
UV bonding is the process by which glass and fittings are joined together to create a structural and strong bond. Using a special UV curing adhesive, the glass panels and stainless steel fittings are fitted together to give a secure and long-lasting product.
Toughened glass is a strengthened safety glass and is the only glass that should be used to create glass display cabinets. The edges of the glass must be highly in line polished as any small chips can mean that the UV bonding process may fail.
Always use a specialist glass processor for your glass display cabinet in either 8 or 10mm toughened glass as this glass thickness gives a more substantial surface area for the bonding.
How much do glass cabinets cost?
This simply UV bonded cabinet with a U channel based in chrome, satin, brass or black will cost around £500 with a single glass shelf. All cabinets are individually made to order to fit a specific sized cabinet or surface, however there are also options of standard sized cabinets which might be more cost effective.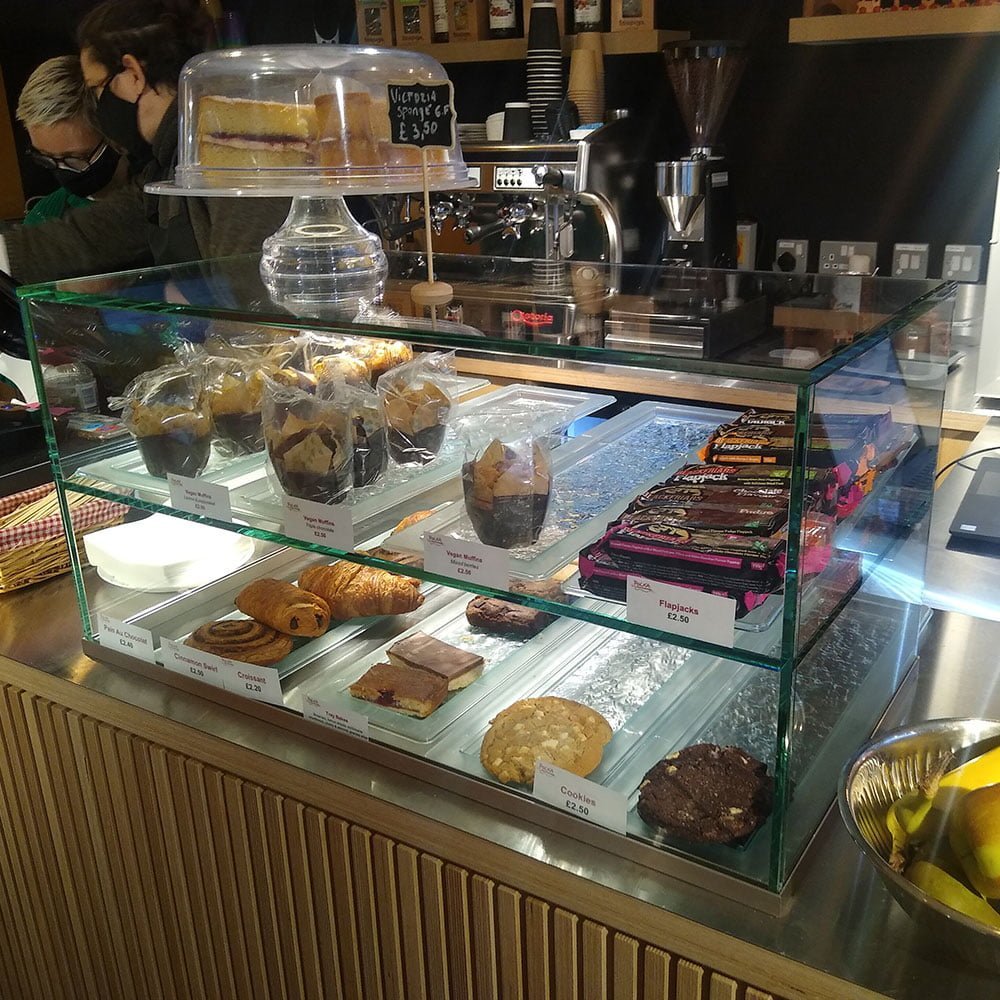 Go Glass are based in central Cambridge and have 45 years of experience in glass design. Their skilled glass design and production team can make glass display cabinets to any size or shape and turnaround is quick with nationwide UK delivery
Why not call the sales team on 01223 211041, design and consultation with Clive Design Director is free and either remote or showroom appointments are encouraged
Go Glass are at 127 Cherry Hinton Road, Cambridge, CB1 7BS